Sen. Lankford on Judge Amy Coney Barrett's Confirmation
Mike Seals - October 26, 2020 11:28 pm
Dear Oklahoma friends and neighbors:
Today, the Senate confirmed Seventh Circuit Court of Appeals Judge, law school professor, and mom of seven, Amy Coney Barrett to serve as an Associate Justice on the Supreme Court of the United States.
In my recent Lankford Letter, I offered my perspective on why the Senate should consider the nomination of Judge Barrett and on her qualifications to serve on the Supreme Court. I was able to review Judge Barrett's extensive testimony before the Senate Judiciary Committee earlier this month. She was poised, straightforward, and knowledgeable. Her answers illustrated her commitment to remaining a fair, impartial, and thoughtful judge, dedicated to a plain text reading of the law. She believes policymakers, who are accountable to the people, write the laws, not judges. CLICK HERE to watch why I believe Justice Amy Coney Barrett will serve our nation well on the Supreme Court.
My colleagues on the other side of the aisle tried to portray her as anti-woman, anti-healthcare, and even racist. I found those accusations bizarre and a completely inaccurate portrayal based on our first-hand conversation; her direct answers to questions; her previous judgments; and many accounts by her colleagues, peers, and students. Senator Inhofe and I penned a joint op-ed on Judge Barrett's remarkable qualifications and on our colleagues' odd attempt to vilify this mother of seven children and her devout Catholic faith. CLICK HERE to read our op-ed.
I had the honor of a private meeting with Judge Barrett. We had an extensive discussion about some of the areas not covered in her hearing. I asked her about agency deference, religious liberty, and precedent among other things. We also discussed antitrust laws and tribal laws. CLICK HERE to learn more about our meeting.
I offered my full support on the Senate floor for Judge Barrett's confirmation as the newest Associate Justice of the Supreme Court. CLICK HERE to watch my remarks on the Senate floor.
Since her bipartisan confirmation to the Seventh Circuit Court of Appeals in 2017, Judge Barrett has participated in more than 600 cases. The left-leaning American Bar Association issued Judge Barrett a 'well-qualified' rating based on her integrity, professional competence, and judicial temperament.
Judge Barrett is the fifth woman in history to serve on the Supreme Court and is the first mother of school-aged children to serve. She is the only current Justice who graduated from a top law school other than Harvard or Yale.
One of Judge Barrett's former students, Laura Wolk, provided a very thoughtful appraisal of Judge Barrett's character during the Senate Judiciary Committee hearings. Ms. Wolk said:
Should you confirm Amy Barrett, the country will receive something far greater than simply an unparalleled legal mind. The Supreme Court and therefore all Americans will gain the service of one of the kindest individuals I have ever known. Her brilliance is matched only by her compassion, and her honesty is beyond reproach. I do not speak in mere abstractions. Rather, I have experienced these characteristics firsthand with life-changing results. Judge Barrett described a mentor who gave her a treasured book of literature to commemorate their relationship. Well, Judge Barrett has now passed on that torch to me, giving me a gift of immeasurable value—the ability to pursue an abundant life with the potential to break down barriers so that I can leave this world a better place than I found it.
I am confident Justice Barrett will serve our nation's highest court with integrity, with deference to the letter of the law, and with compassion for those whose cases are brought before the Court. She will take her role as a justice very seriously, and she will be an asset to our rule of law in the years to come. The Senate's process of advice and consent has concluded with a thorough vetting and full consideration of her nomination. I look forward to her work as a justice on the Supreme Court.
In God We Trust,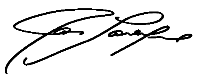 James Lankford
United States Senator for Oklahoma