Ponca City Police Asking for Help Identifying Suspects in Check Cashing Fraud at Equity Bank
Ponca City Police Department - April 27, 2022 9:04 pm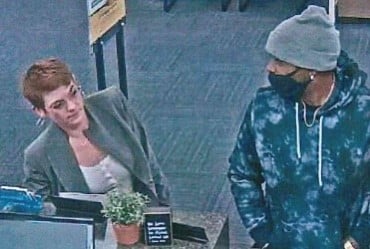 The female in the attached photographs is being sought for questioning regarding the check that was fraudulently cashed at Equity Bank in Ponca City. She was seen getting out of, and back into, the same vehicle as the suspect who cashed the check.
The vehicle appears to be a small red Chevrolet car. The tag number and model of the vehicle are undetermined at this time.
Anyone with information regarding this investigation or the individuals being sought for questioning are asked to contact the Ponca City Police Department at 767-0370.
You can also remain anonymous and report information to CrimeStoppers by calling 580-762-5100.