Pheasants Forever annual banquet set for March 2
Beverly Bryant - February 19, 2019 3:35 pm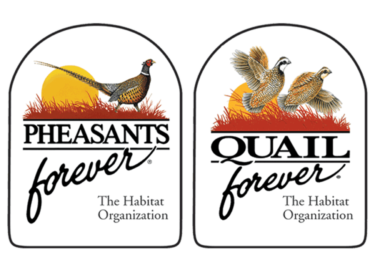 The fifth annual Pheasants Forever banquet is scheduled for 6 p.m. March 2 at Eastern Heights Christian Church, 5100 Lake Road.
The public can join the organization for an evening with a barbecue dinner, games, raffles, silent and live auctions, all with the intention of helping youth get involved in hunting and wildlife preservation.
The Cherokee Strip Chapter of Quail Forever/Pheasants Forever was organized in 2014, with the stated mission of preservation, conservation and restoration of wild quail and other upland game, its habitat and the heritage of quail hunting.
To achieve the mission, the organization has various youth outreach events so "No  Youth Left Indoors." There are habitat projects on public and private lands and an active presence in local communities.
This year's banquet is a fundraiser for these endeavors. Those who may wish to donate funds for the local chapter may do so by mailing  them to 5460 N. Longwood Road, Ponca City, OK 74604.
When there are 10 sponsors of $250 or more, there will be a drawing for a gun. Individuals must be present to win early bird and sponsor drawings.
In 2018-19, the Cherokee Strip Chapter accomplished several goals, including:
Giving $5,000, that, through matching grants with ODWC and Pittman-Robertson funds, turned into $20,000. The funds were used  to buy a Bobcat Track Loader with forestry cutter, rotary saw, tree shears, a bucket with grapple and trailer for use in tree and brush management/removal on Kaw WMA.
Donated $500 to the ODWC Veteran License Program.
Donated $2,500 to the ODWC for habitat equipment for Cross Timbers.
Built 20 wing collection boxes for placement at Kaw WMA.
Donated $1,000 to QF/PF Legislative Action Fund used to show national conservation leadership and deliver local wildlife habitat results.
Donated $2,500 to help hire two biologists for the Woodward and Claremore area to further the boots on the ground program. Also donated $2,500 to the Oklahoma Land Access Program.
Hosted a two-day Women's Clinic on Hunting 101, which included the cost of Dove Hunting licenses and memberships to Quail Forever/Pheasants Forever.
Financial support of $1,864 for the Newkirk FFA Shooting Team.
Financial support of $794 for the Cowley County 4-H Shooting Sports.
Three Youth Pollinator Plot Planting days at Camp McFadden.
Three Youth Day Camps at Big Fork Ranch.
A booth at the Kay County Free Fair
Committee Fun Days with breakfast and clays shooting.
For more information, contact Glen Nickles at (580) 765-6943 or [email protected]. Also visit the organization's website at www.pheasantsforever.org.