Pettit Completes New York City Marathon with Personal Record
Mike Seals - November 15, 2021 7:37 am
SALLISAW- (Will Chavez CF) –
Cherokee Nation citizen Justin Pettit was one of 33,000 runners who on Nov. 7 ran the 2021 New York City Marathon.
It was the event's 50th running, and for the 41-year-old from the Marble City in Sequoyah County, it was his third marathon. Pettit said he has been running for nearly six years after he decided to get healthier and lose weight.
"I was going to the gym and working out and lifting, and it just wasn't working and I wasn't enjoying, and I thought, 'let's try running.' I lived out in the country at the time and I ran a little bit," he said. "Then there was a Boys & Girls Club 5k, and I ran that one, and I've kind of been hooked ever since."
He has also completed a dozen half marathons (13.1 miles) and ran the New York City Marathon in 2020 virtually by running at his house, which provided him the opportunity to run it this year. The number of competitors this year was limited to 33,000 because of the pandemic. By running it virtually in 2020, Pettit had a chance to be entered into this year's marathon and got in.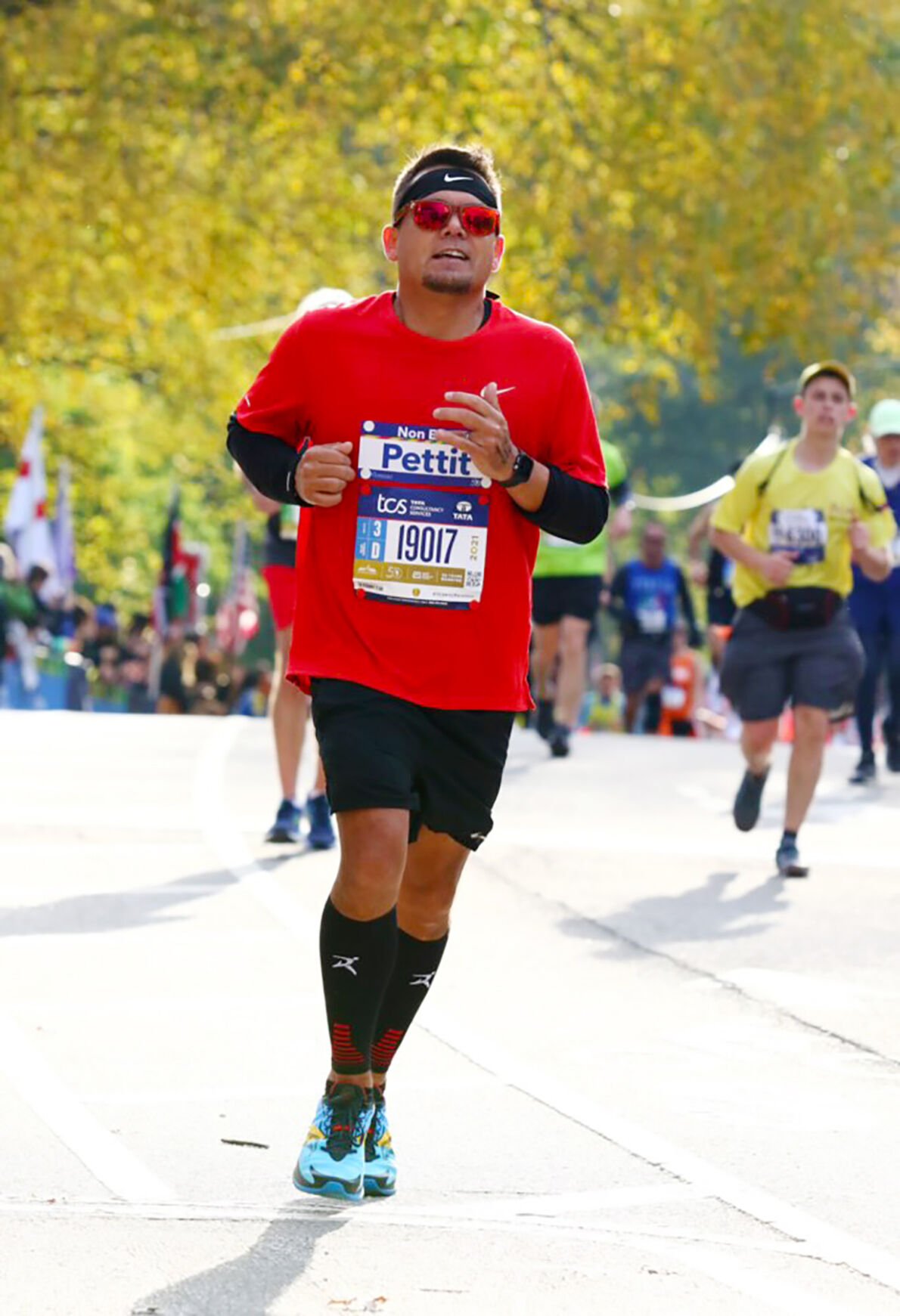 Cherokee Nation Citizen Justin Petite
He began training for the marathon in July but said he had already been running and building up his mileage.
"It's funny. I've actually been training for a marathon for over two years because I started training for the Tulsa (marathon) in June of 2019, and then after Tulsa, I took a few weeks off. I hurt myself in Tulsa, but I said I'm going to try again and said 'I'm going to do the Oklahoma City (Marathon) in April 2020.' I started training for that and then COVID hit, and they moved it to October 2020," he said. "And then they moved it again to April 2021 and I kept training and training, and finally they moved it to October, and by then I had already gotten the entry for New York, so I ended up doing the half (marathon) in Oklahoma City."
To prepare for New York City, he downloaded a coaching app. A former Olympian coached him and gave him weekly running plans. "Sometimes I thought she was crazy, but then I figured she knows what she's talking about."
The coaching paid off because he said he knocked 40 minutes off of his personal record.
"I ran Tulsa in 4 hours and 55 minutes or so, and then on Sunday (Nov. 7), I ran at 4:15:22. It's a little slower than what I wanted. At about mile 20, I had a charley horse in my right quad that just tightened up and would not let go for about four miles. I wanted to break four hours, but by then I knew I wasn't going to, so I just enjoyed the last few miles in Central Park."
He and his wife, Jenny, have been to New York 14 times, he said, so they are familiar with Manhattan, but he was not as familiar with the other parts of New York the race meandered through.
"Luckily, they have run the same course for the last 45 years, so there are all kinds of YouTube videos that show people driving it (course). I knew the course. I was ready, I was doing really good but that old quad just tightened up on me," he said.
He said New York is not too hilly, but he had to run over bridges in the area and some were long and slanted upwards.
"I was concerned about the Queensboro Bridge, which is miles 15 and 16, but I got over it and got over it well. I was in a good spot after that because that's the part that gets everybody – the Queensboro Bridge – because it looks pretty flat but when you get on it, it's not at all."
The New York City Marathon starts at Fort Wadsworth on Staten Island. Runners first cross the Verrazzano-Narrows Bridge into Brooklyn. The streets in this borough are flat and runners remain here until mile 12. Runners then enter Queens before crossing the Queensboro Bridge.
After crossing the bridge, runners enter Manhattan and run down First Avenue. They then enter The Bronx for miles 19 and 20 and pass the "Entertainment Zone," which includes bands and dancers. The course then re-enters Manhattan for the final 6.2 miles. After running through Harlem, there is a slight uphill section along Fifth Avenue before it flattens out and runs parallel to Central Park. The course then enters the park around mile 24, passes Columbus Circle at mile 25, and re-enters the park for the finish.
Pettit said millions of people along the route cheered on the marathoners. "Water, Gatorade, food – anything you wanted was out there. I just can't get over how loud it was. The crowd really made a difference."
For finishing, he received a gold medal with the 50th New York City Marathon emblem. Pettit said he plans to get his name and finishing time engraved on the back of it.
He said right now his wife is forcing him to rest. He said he is in the final drawing for the Chicago Marathon in October, and if he does not get chosen he plans to focus on running half-marathons next year.
"They are going to have one here in Sallisaw in May, our first one, and I'm definitely going to do that one. With the half though I can probably run six or seven of those. It's just a matter of figuring out which ones," he said. "I just want to thank everybody for all the support. It makes a big difference. Even the tribe (Cherokee Nation) on Facebook gave me a shout, and that was fantastic. And of course, I need to thank my wife for being there through everything and taking care of me. That was a big thing."