OU's Cale Gundy Resigns After Saying "Shameful and Hurtful" Word
FOX-23 News - August 8, 2022 12:27 am
OU's Cale Gundy
Norman, OK-
Longtime University of Oklahoma assistant football coach and former Sooner quarterback Cale Gundy is resigning after he says he accidentally said a word that "I should never – under any circumstance – have uttered" during a film session.
Gundy said in a statement he put on social media late Sunday night that he picked up a player's iPad and read the words on the screen. "In the moment, I did not even realize what I was reading and, as soon as I did, I was horrified," Gundy said in the statement.
Here is Cale Gundy's full statement: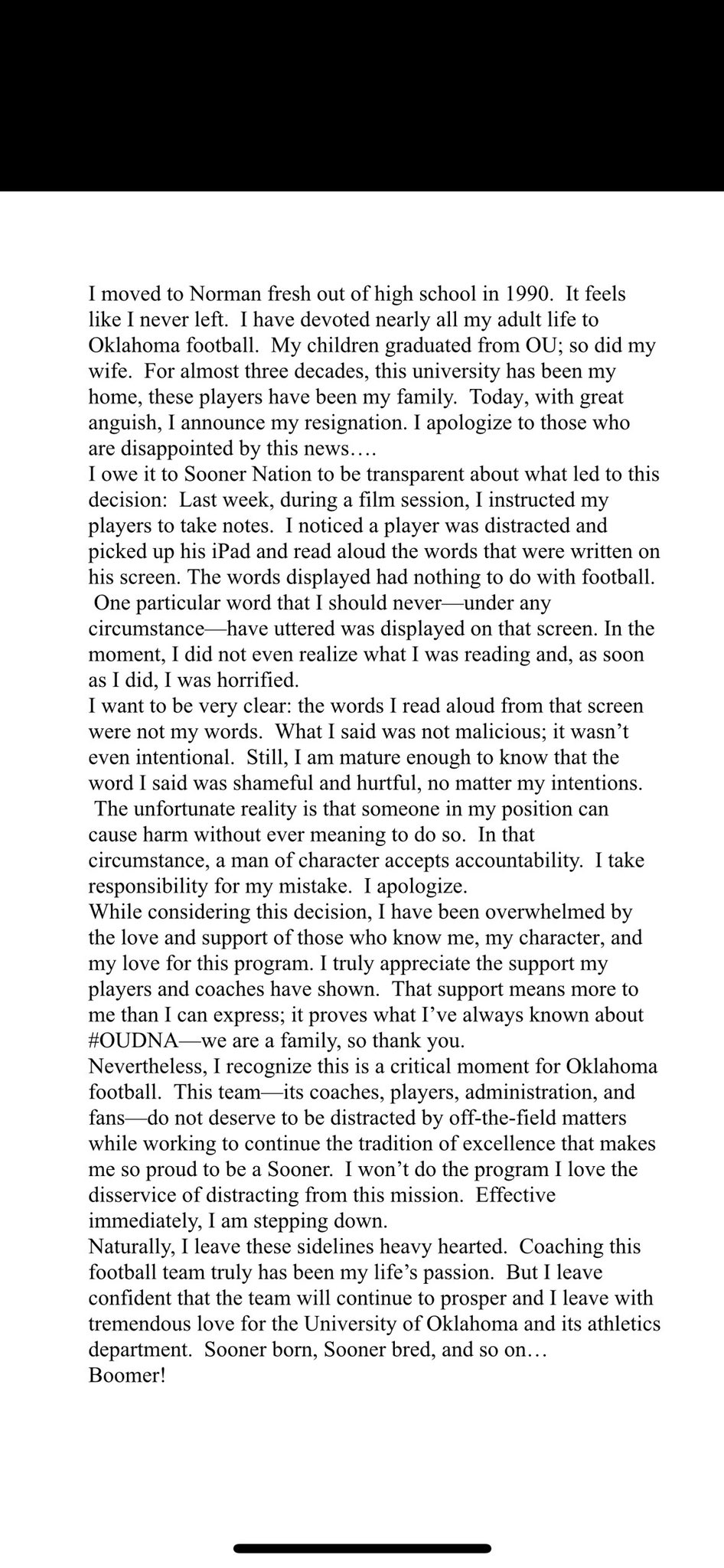 New OU head coach Brent Venables also sent out a statement:
"It's with sadness that I accept Coach Gundy's resignation. He's dedicated more than half his life to Oklahoma Football and has served our program and university well. We're thankful for that commitment. We also acknowledge that in stepping aside he's placed the program and the welfare of our student-athletes first. In coaching and in life, we're all accountable for our actions and the resulting outcomes.

"The culture we're building in our program is based on mutual respect. Our staff is here to develop successful student-athletes, but also young men of character. As the leaders of this program, it's essential that we hold ourselves to the highest standards as we model for our players the type of men we want them to become.

"L'Damian Washington, who has been serving as an offensive analyst for our program, will coach our wide receivers on an interim basis."

—  Brent Venables, OU head football coach
Cale Gundy played quarterback at OU from 1990-93. He led the Sooners to a 31-13-2 record in his four seasons and was All-Big Eight First Team as a senior. He broke virtually every OU single-game, single-season, and career passing record before Bob Stoops took over the OU program after the 1998 season. Stoops brought Gundy back to Norman in his first coaching staff. Gundy had been at OU ever since — until he announced his resignation Sunday night.
Multiple former OU football players tweeted out messages of support for Cale Gundy.