Oklahoma Prepares to Execute Man for 1985 Slaying of Teacher
Beverly Cantrell - December 9, 2021 6:36 am
Oklahoma-AP
Oklahoma is preparing to execute a man Thursday for the 1985 shooting death of an Oklahoma City-area schoolteacher after federal courts rejected his claim that the state's three-drug lethal injection method is unconstitutional.
Bigler Stouffer II, 79, is set to receive a lethal injection at 10 a.m. at the Oklahoma State Penitentiary in McAlester. Stouffer would be the first person executed in Oklahoma since John Grant convulsed on the gurney and vomited during his lethal injection in October as the state ended a six-year execution moratorium brought on by concerns over its protocols.
Stouffer has maintained his innocence in the attack that left Linda Reaves dead and her boyfriend, Doug Ivens, seriously injured. He and his attorneys argued in court filings that the state's three-drug execution method poses a risk of unconstitutional pain and suffering and that Stouffer should be included among other death row plaintiffs in a federal lawsuit challenging the protocols. But his request for a stay of execution was denied by a federal district judge and the U.S. Court of Appeals for the Tenth Circuit. A final appeal with the U.S. Supreme Court was pending on Wednesday.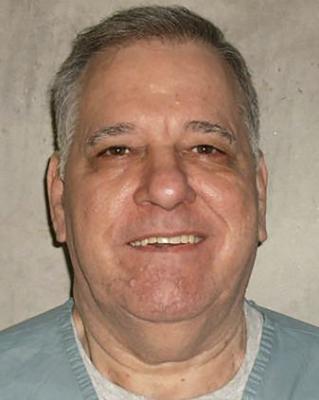 Bigler Stouffer II
Stouffer was convicted and sentenced to death in 2003 after his first conviction and death sentence were overturned. At a parole board hearing last month, he said Ivens was shot as the two men fought over a gun at Ivens' home, and that Reaves was dead when he arrived.
"I was not present when Linda Reaves was shot," Stouffer told the board during a video appearance from prison. "I am totally innocent of the murder of Linda Reaves and my heart goes out to the family of Linda Reaves that have suffered as a result of her murder."
Prosecutors said Stouffer went to the home to borrow the gun from Ivens, then fatally shot Reaves and wounded Ivens to gain access to Ivens' $2 million life insurance policy. At the time, Stouffer was dating Ivens' ex-wife.
Despite being shot three times with a .38-caliber pistol, including once in the face, Ivens survived and testified against Stouffer.
"Stouffer's heinous actions against Doug and Linda, his lies and manipulations in the years to follow, and his complete lack of sorrow and remorse for the hurt he caused should dictate one conclusion — the jury's death sentence must be carried out," attorneys for the state wrote in asking the Pardon and Parole Board to reject Stouffer's request for clemency.