Fiesta Time: Cowboys Paired Against Notre Dame in New Year's Six bowl
Beverly Cantrell - December 5, 2021 2:56 pm
Stillwater News Press-
Oklahoma State football will play Notre Dame for the first time in program history in the Fiesta Bowl.
The College Football Playoff committee deemed the Cowboys still worthy of a New Year's Six bowl after losing the Big 12 Conference championship to Baylor on Saturday. The game is scheduled for a noon kickoff – 11 a.m. in Glendale, Arizona – on New Years Day and will be televised on ESPN.
The Cowboys fell to ninth in the rankings, keeping them in the cut-off of the top 12 eligible for the marquee bowl games each year. The seventh-ranked Bears received the Big 12's automatic bid to play in the Sugar Bowl, leaving the Cowboys as an at-large bid.
Oklahoma State will face No. 5-ranked Notre Dame – which also took an at-large bid since they aren't affiliated with a conference.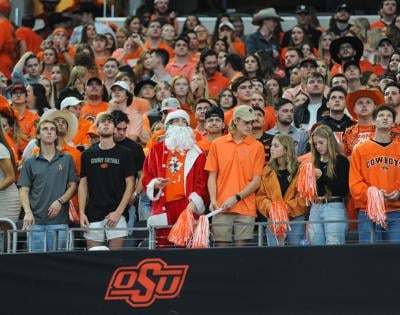 The last time OSU participated in the Fiesta Bowl was at the conclusion of its 2011 season after winning the Big 12 championship and finishing one spot out of the BCS title game. The Cowboys beat Stanford, 41-28, in that contest and eventually finished ranked No. 2 in the final rankings.
Oklahoma State has been to an Arizona bowl game since then, though.
Three years after the Fiesta Bowl, the Cowboys traveled to Tempe, Arizona, to play Washington in the Cactus Bowl – winning that game, 30-22.
This trip will mark the third trip to the Fiesta Bowl in Oklahoma State history – having played in the 1974 Fiesta Bowl against BYU, winning 16-6 – and the fifth trip to an Arizona bowl, beating Indiana 49-33 in the Insight Bowl (previous name of the Cactus bowl) in 2007.