FACT CHECK: Does an Oklahoma Elementary School Principal Moonlight as a Drag Queen?
KOKH - September 4, 2023 9:43 am
OKLAHOMA CITY, Okla. (KOKH) — Oklahoma State Superintendent of Public Instruction Ryan Walters (R) called the situation surrounding a metro principal who reportedly moonlights as a drag queen "unacceptable" in a video he posted online on Friday.
FOX 25 has confirmed with library officials that the principal of John Glenn Elementary School, Shane Murnan, is the drag queen who goes by the name "Shantel Mandalay" and read children's books during a story hour at the Metropolitan Library System on Jun. 15, 2021.
John Glenn Elementary is a part of the Western Heights School District.
According to Walters, "This is completely unacceptable. We know that radical gender theory has been a direct assault on our kids… and we can't allow this in our schools."
Drag queens in schools do not = Oklahoma values. pic.twitter.com/XQzpNIUnLw

— Superintendent Ryan Walters (@RyanWaltersSupt) September 1, 2023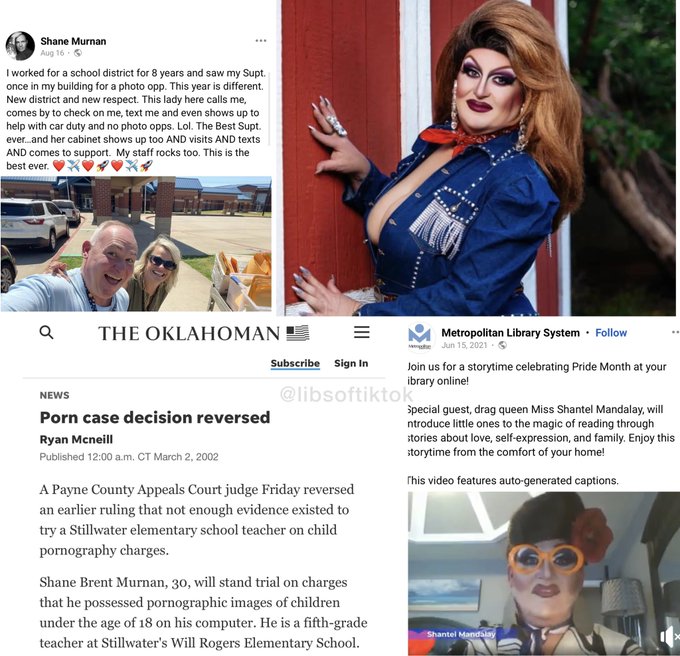 Library officials said organizers performed a background check on Murnan preceding the story hour.
Officials also shared that his presentation was prerecorded from an unknown location, and that no physical interaction occurred between him and any children.
Christina Madden, who has two children attending John Glenn, shared during an interview with FOX 25 on Thursday that, "Him being a drag queen, like that doesn't bother me, but… I've seen going around that, not only is he a drag queen but he dresses in drag and reads children's books to children about gender."
She plans to take her kids out the school if Murnan stays given recent revelations.
"That's concerning because I feel like he might press you know, some unwanted things, thoughts, onto our children," she explained.
"Our schools have to do a better job of ensuring their hiring process ensures that their personnel match Oklahoma values," asserted Walters.
FOX 25 made repeated requests to Walters' office to clarify how the state superintendent will respond, and asked if Walters plans to push for Murnan's resignation or for his teaching license to be revoked after officials said he renewed it in April.
FOX 25 also asked if Walters had any more to say about other instances of parents expressing concern for student safety in Oklahoma schools.
As previously reported, parents have said the football coaches at Kingfisher and Ringling schools abused their kids.
An Oklahoma State Department of Education spokesman referred FOX 25 back to the Friday video and a statement from Thursday in which Walters said, "OSDE is looking into all accusations and will take any necessary action to protect children."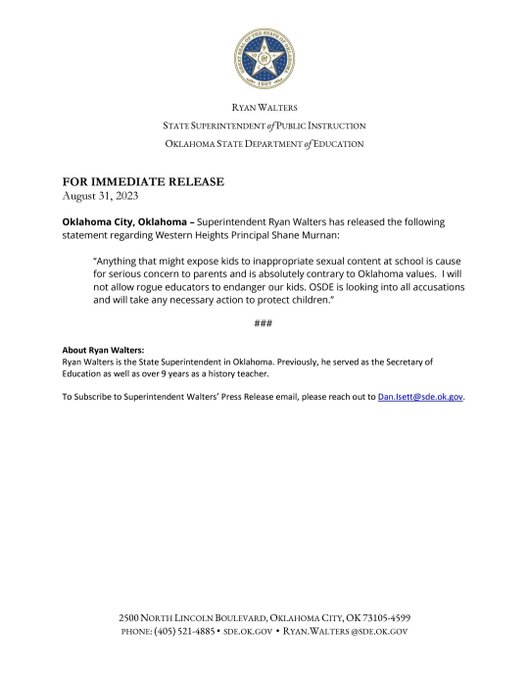 "We will not allow it. This will stop," the state superintendent explained in the video.
However, neither the video nor the statement addressed the concerns over Kingfisher or Ringling.