Charlie Batch Offers OU's Caleb Williams $1 Million To Transfer To Eastern Michigan
Beverly Cantrell - January 7, 2022 3:48 pm
CBS Sports-
Oklahoma quarterback Caleb Williams made one of the more notable moves in college football this week, announcing he was entering his name into the NCAA Transfer Portal. While multiple major schools are expected to be in the mix for Williams, one of the smaller schools out there made their pitch to Williams on social media on Tuesday.
Former Eastern Michigan star and Detroit Lions/Pittsburgh Steelers quarterback Charlie Batch made a pitch for Williams to attend his alma mater with an enticing offer. Batch tweeted that GameAbove Capital is prepared to pay Williams $1 million via a NIL deal if he commits to Eastern Michigan.
"Hey @CALEBcsw, have you considered Eastern Michigan, @EMUFB? If not, you SHOULD," Batch wrote in his tweet. "GameAbove Capital is prepared to pay you ONE MILLION DOLLARS for one year! Are you ready be an EAGLE?"
A five-star prospect in the 2021 recruiting class, Williams committed to the Sooners because he wanted to play under Lincoln Riley. Williams played in 11 games, but started in just seven of them, throwing for 1,916 yards, 21 touchdowns and just four interceptions. However, when Riley left to take the head coaching job at USC, Williams' future in Norman became a bit murky.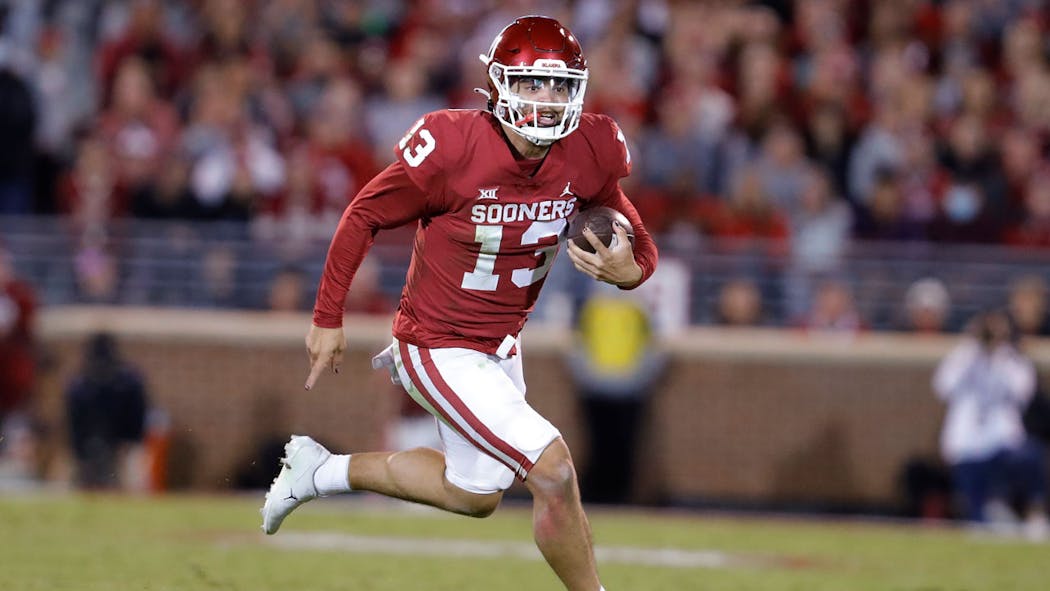 Caleb Williams-OU Quarterback
Williams officially hit the portal on Wednesday, but he announced his plans to do so on Monday. In his statement about the decision, Williams admitted that the changes to the coaching staff altered the plan for his future. However, Williams did not rule out returning to Oklahoma, as he indicated in the statement.
"I think we all come to college to find our own path and prepare for the future," Williams wrote. "I came to Oklahoma with a game plan, but with all of the recent changes, I need to figure out what is the right path for me moving forward. According to NCAA rules, as a student athlete, the only way I can speak with other schools and see who may offer the best preparation and development for my career is by entering the portal. Staying at OU will definitely be an option as I begin this process. I'm going to take a few days off to decompress and relax with my family, but thank you again everyone for all the love and support."
Multiple schools have surfaced as possible landing spots for Williams to continue his college career. A reunion with Riley at USC is a potential destination, as is Georgia in the SEC. Brandon Huffman of 247Sports has also reported that UCLA, rather than USC, is a possible landing spot for Williams.