Annual Tonkawa Tribal Powwow This Weekend
Ponca City Now - June 21, 2023 6:36 am
The Tonkawa Tribal Powwow, an annual tribal celebration featuring Native American dancing, princess crowning, contests, crafts, artwork and food is this weekend. This year marks the 48th annual event and 138th Anniversary of the arrival of the Tonkawa at Ft. Oakland and will celebrate the "Year of the Woman."  The Powwow will be held June 23, 24, and 25.
On Wednesday, June 21 there will be a Mourners Supper at the tribal gym at 6:30pm.
Lots of events will be held through out the weekend beginning Friday morning with the flag raising at 7:00 am.
Powwow Events are held:
Friday:
7:00 pm – 11:30 pm
Saturday: 
2:00 pm – 11:30 pm
Sunday: 
2:00 pm – 11:30 pm
Dance styles will include straight, war, gourd, fancy, traditional, cloth and buckskin categories. A Traditional Tonkawa Scalp dance will be held during the Saturday night program and a Nez Perce memorial contest Sunday evening.
This year's event will also include a horseshoe tournament, fireworks, veteran's supper for encampment, disc golf tournament and a 3-on-3 basketball tournament.
Free camping, along with electric and water hookups, will be available.
Tonkawa Pow Wow grounds are located  1.5 miles southeast of the City of Tonkawa, off I-35, Tonkawa/Ft. Oakland Community, OK
Specials:  Chief Joseph Memorial Traditional Contest (17+) Sunday Night; Norita Arkeketa Memorial Jingle Dress Contest (17+) Saturday Night
Traditional Tonkawa Scalp Dance 8:00pm Saturday Night
Tournaments:  3 on 3 BBall Tournament Friday 9:00am; Honored Warriors Run Saturday 7:00am; Charles Star Horseshoe Tournament Saturday 9:00am; Rivers Edge Disc Golf Tournament Sunday 8:00am
Schedule:  Please see attachment below for complete schedule.
Friday – Gourd Dancing 7:30pm; Intertribal Dancing 8:30pm
Saturday – Gourd Dancing 3:00pm & 6:30pm; Intertribal Dancing 9:00pm
Sunday – Gourd Dancing 3:00pm & 6:00pm; Intertribal Dancing 8:00pm
Pictured: Ft. Oakland Ramblers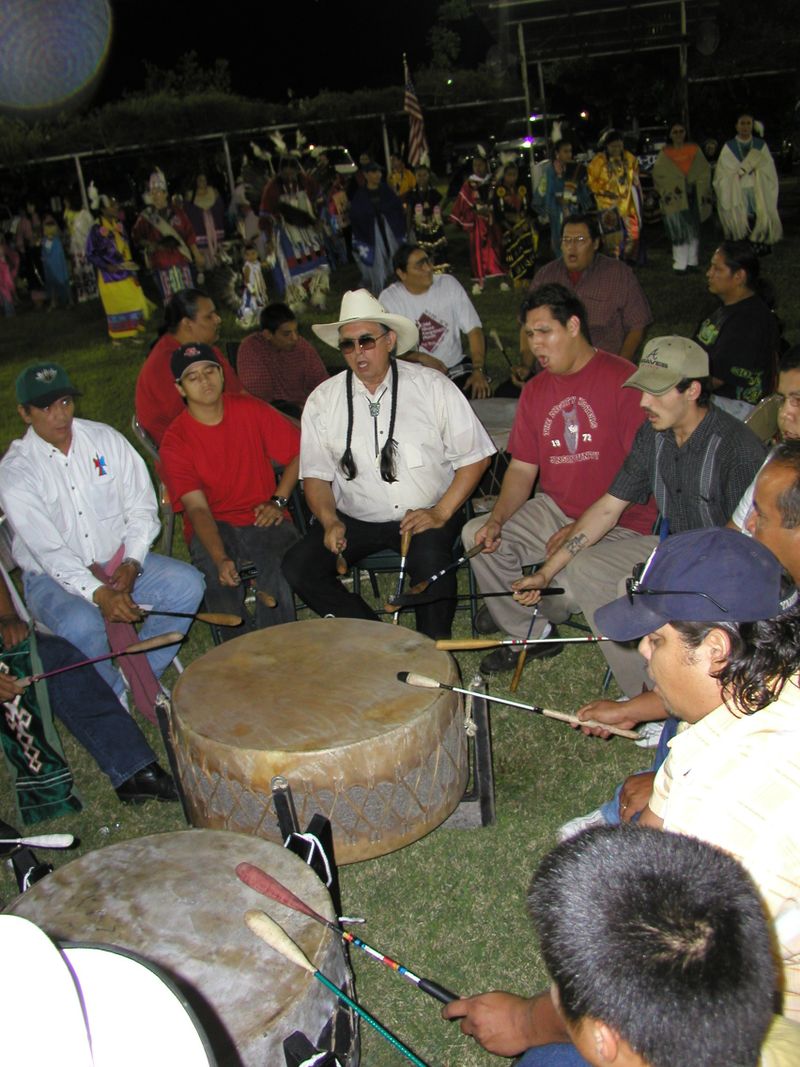 Head Staff:
Host Drum- Ft. Oakland Ramblers
Grand Master- Lester Eagle
MC- LeRoy Enloe & Brady Warrior
Head Man Dancer- Alexander Black
Head Lady Dancer- Cheryl Arkeketa
Incoming Princess- Kaedyn Warrior
Outgoing Princess- Grace Harvey
Arena Director- Miles McGirt & Ely Wilson
Host Gourd- Tonkawa Gourd Dance Club
Cohost Gourd Groups- OKC Pow Wow, Black Beard, & Ponca Gourd Clubs Invited Gourd Groups- Two-Hatchett Family & Wichita Warrior Society–
Contest Committee – Billy Taylor, Berdine Martin, & Kim Enloe
Color Guard- Nicole True & Patrick Waldroup
Water Carriers- Keifer Standsblack, Phoenix Prichette, Aven Black, & Matias Mahtapene