4 Missing Men Found Dismembered; Murder Investigation Begins
News 6 - October 17, 2022 4:54 pm
OKMULGEE, Okla. –
A missing person search in Okmulgee now turns into a murder investigation.
Police say the remains found in the deep fork river are the bodies of four missing men.
The chief says this was a very violent act, and they are working hard to get answers for the families of the men.
The Okmulgee Police Chief says they are searching for a person of interest in the case who investigators want to talk to, but he has not been seen or heard from in three days.
Okmulgee Police confirm the remains found Friday in the Deep Fork River are that of Mark Chastain, his brother Billy, Mike Sparks and Alex Stevens.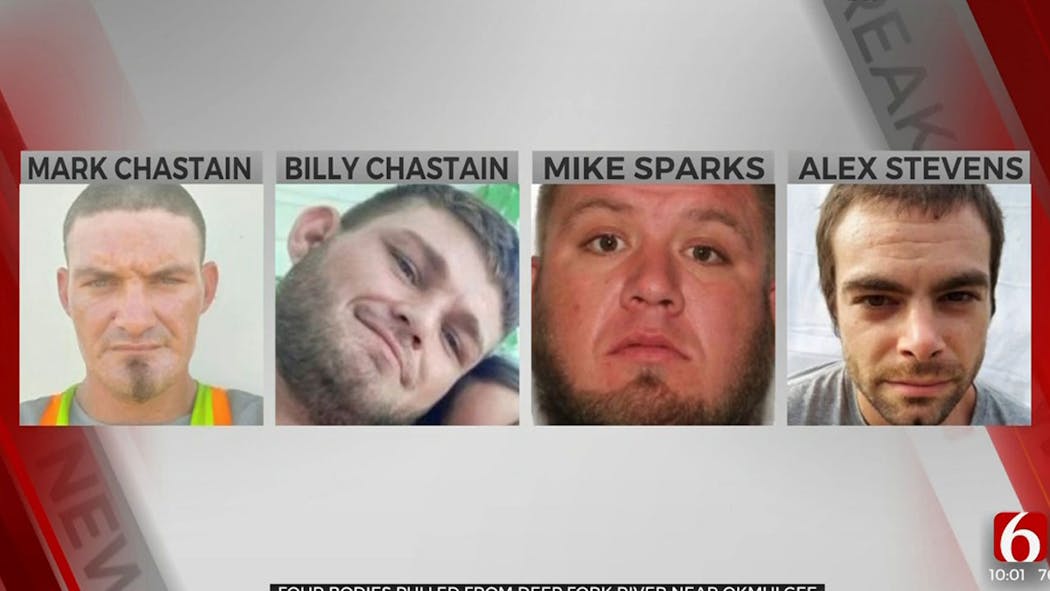 "We have worked around the clock all week, we were out all weekend and we will continue to work to figure out what exactly happened to their loved ones and who did it," said police chief Joe Prentice.
Police Chief Joe Prentice says the men were shot, and then dismembered before being taken to the river.
Police say a witness told them the men were planning to commit some kind of crime before they disappeared.
Right now, investigators believe whoever killed them, acted alone.
"Whenever I conduct an investigation I always develop theories, but I don't publicize those until I have evidence to support them, and at this point I don't have any evidence of anyone else being involved," Prentice said.
Right now, police say Joe Kennedy is a person of interest in this case.
Prentice says they searched Kennedy's salvage yard last week and didn't find any evidence, but they did find blood at a property nearby– so police want to talk to Kennedy.
Prentice says the families of the victims are devastated.
"They were upset I think they had already resolved themselves that this was their loved ones, but the additional information about dismemberment was obviously a shock, they were very distraught," Prentice said.
Prentice says there is still a lot of work to do in this case, and they are hoping to get the answers they need.
"We still have a lot of leads to follow and will continue to bring them in and prioritize them, and sent them out to investigators to accomplish and then report back," he said.
Prentice says they believe Kennedy may be suicidal. If you see him, or have any other information about this case, call the Okmulgee Police Department, at 918-756-3511.
Police say Joe Kennedy's Blue PT Cruiser has been located and is in police custody. They say it was abandoned behind a business in Morris, Oklahoma. Investigators say they now have no vehicle information for Kennedy.
 Deep Fork River where 4 bodies were found.