3 Arrested At Marijuana Grow Operation After Garvin Co. Deputies Received Reports Of Person Being Dragged On Road
Beverly Cantrell - December 2, 2021 6:20 am
ELMORE CITY, Oklahoma – 
Three employees at a Garvin County marijuana grow operation, later determined illegal, were arrested after dragging an employee on a rural road.
Xiaobing Chen, 34, Xuechun Ruan, 22, and Quan Zhao, 25, were arrested Monday by deputies at the Garvin County Sheriff's Office.
Just after 5 p.m. Monday, deputies were dispatched to a home in the 27000 block of East County Road 1650 after receiving multiple 911 calls a man was being dragged on the road.
"We've got some guys in our yard fighting," one caller told dispatchers. "We need help now!"
They're in the middle of the road, they're fussin'," another called said to dispatchers. "They're trying to drag him back in the yard."
According to court records, an Elmore City police officer was first to arrive on the scene and witnessed one of the suspects and the victim wrestling.
The victim told deputies he has been at the dispensary for three months and wasn't allowed to leave unless accompanied by an employee.
Garvin County Sheriff Jim Mullett tells News 9 the victim gathered personal belongings and tried to run across the street to call 911.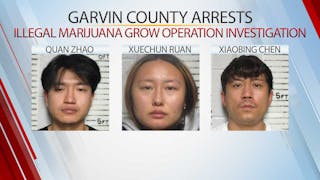 "These other employees and the owner of this grow said you're not leaving and there is where the struggle ensured in the middle of the road," said Mullett. "At one point, they were even dragging him from the road back to the house."
The victim told deputies he was being made to stay at the grow operation so the suspects could "extort money from a wealthy family."
The marijuana grow operation's owner is among the three arrested by deputies.
Mullett said the grow has been operating without a license from the state.
During a search warrant executed in the home, deputies discovered numerous guns, over $32,000 in cash and a large amount of marijuana.
"We have found a total of almost 1,600 pounds of a finished product of marijuana," said Mullett. "That is a lot of marijuana to go out in the streets. We found out that street value, we're looking at around $2 million in product."
Statewide, Mullett said illegal grow operations and associated crime have become a big problem.
"We are dealing with these people that don't want to abide by the rules," said Mullett. "I will say this if you can't abide by a simple getting a registration with the state of Oklahoma, what else are you going to try to cut corners on and do illegally?"
All three suspects are being held at the Garvin County jail without bond. They're expected to be arraigned Thursday in Garvin County District Court.
The Garvin County Sheriff's Office will work with the Oklahoma Bureau of Narcotics and Dangerous Drugs Control (OBN) to destroy the seized marijuana.